Afrotherian Conservation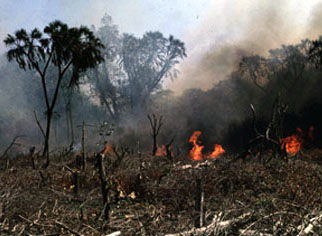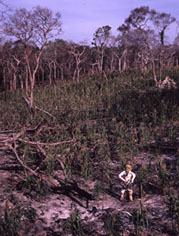 Slash and burn agriculture in an Afrotherian HOTspot: Gedi Ruins "National Park", Kenya 1972. Photos by G. Rathbun
The species listed here are classified on the IUCN redlist as either endangered (EN), vulnerable (VU), or near-threatened (NT) by the 2016 IUCN RedList. While some of the IUCN categories do not necessarily imply imminent extinction, the trend in many cases is negative. That is, without additional effort towards conservation on the part of local communities, NGOs, national and international regulatory agencies, "first world" consumers, and other relevant parties, these species will eventually become extinct, many within your lifetime.
Here are PDF file downloads of conservation fact sheets for the Aardvark, Golden Moles, Sengis, Tenrecs, and Hyraxes. These fact sheets are periodically updated, and they supersede Nicoll, M. E. and G. B. Rathbun. 1990. African Insectivora and Elephant-shrews, an action plan for their conservation. International Union for Conservation of Nature and Natural Resources (IUCN), Gland, Switzerland.
In many cases, the causes of extinction are simple: destruction of natural habitat due to increased exploitation of fossil fuels, timber, minerals, and expansion of agricultural zones by humans.
Human population is increasing exponentially and, in many places, we are consuming per capita an ever increasing share of the Earth's resources. No one knows exactly what the carrying capacity of the planet is for any single species. However, the consequences of exceeding that capacity will be truly dire, at least for humans.
Small, at-risk afrotherians on the 2016 IUCN Red List of Threatened Species
Tenrecidae: at least 8 of ca. 34 species are at risk

Micropotamogale lamottei with bownet used by locals for fishing. The bownet frequently traps and kills Micropotamogale. Photos by P. Vogel

Micropotamogale ruwenzorii.
Photo by Urs Rahm
Chrysochloridae: at least 12 of 21 species are at risk

Chrysochloridae,
continued

Macroscelididae: at least 3 of 19 species are at risk
Afrotherian "Hotspots"
Nimba mountains, Liberia, Ivory Coast, Guinea (home to Micropotamogale lamottei)
Namaqualand coastal plain, Succulent Karoo biome, South Africa (home to Eremitalpa granti, Cryptochloris wintoni, and Cryptochloris zyli)
Rwenzori Mountains, Rwanda, Congo (home to Micropotamogale ruwenzorii)
Andekaleka, Madagascar (home to Limnogale mergulus)
Ranomafana National Park, Madagascar (home to many species of Microgale and Limnogale)
Arabuko-Sokoke Forest, Kenya (home to Rhynchocyon chrysopygus)
High-altitude grasslands of South Africa, with five endemic golden mole taxa (Chrysospalax villosus, Chlorotalpa sclateri, Amblysomus robustus, Amblysomus septentrionalis, and two subspecies of Amblysomus hottentotus).
Pretoria, South Africa (home to one of only 3 known populations of Neamblysomus julianae, and formerly to Chrysospalax villosus, now thought to be locally extinct)
Soutpansberg Mountains, South Africa (home to Neamblysomus gunningi)
Udzungwa Mountains, Tanzania (home of R. udzungwensis)
Small afrotherians possibly at risk of extinction, but without adequate information for assessment
| | | |
| --- | --- | --- |
| Chrysochloridae | Tenrecidae | Macroscelididae |
Non-Governmental Conservation Groups Helping to Protect Afrotherian Habitat
Conservation Groups of General Interest